I set my Goodreads Reading Challenge at 100 books for 2016. On April 27th when I was 10 books ahead of schedule my son was diagnosed with a serious illness sending me into a serious reading slump. My attention span was short and audio books turned into my best friend, since son lives 2 hours away and any down time left my brain contemplating worse case scenarios. Now that he is on the road to recovery it's only been in the last couple of months that I have felt able to pick up my pace and somehow managed to finish 91 books.
My goal for 2017 is set to 75 books, during the past year I have learned so much about what's important and things I want to do. Life can change so quickly, we don't know what tomorrow brings and its a reminder that it isn't too late to pursue your dreams, goals or ambitions and to do it NOW.
For myself I have a couple writing projects that I am working on and would like to devote more time over 2017 to work on them.
I read some great books from 2016, also some not so great ones and this year I can count more dnf books since I did not want to waste precious time reading something just for the sake of reading..
Of those 91 books I've read:
39 were new to me authors
47 were provided via Netgalley
35 were audio books
In no peculiar order here are my best of 2016.
click on cover to take you to my review
Veronica Speedwell returns in a brand new adventure from Deanna Raybourn, the New York Times bestselling author of the Lady Julia Grey mysteries...
London, 1887 . . Victorian adventuress and butterfly hunter Veronica Speedwell receives an invitation to visit the Curiosity Club, a ladies-only establishment for daring and intrepid women. There she meets the mysterious Lady Sundridge, who begs her to take on an impossible task saving society art patron Miles Ramsforth from execution. Accused of the brutal murder of his artist mistress Artemisia, Ramsforth will face the hangman's noose in a week s time if Veronica cannot find the real killer.
But Lady Sundridge is not all that she seems and unmasking her true identity is only the first of the many secrets Veronica must uncover. Together with her natural historian colleague Stoker, Veronica races against time to find the true murderer a ruthless villain who not only took Artemisia s life in cold blood but is happy to see Ramsforth hang for the crime.
From a Bohemian artists colony to a royal palace to a subterranean grotto with a decadent history, the investigation proves to be a very perilous undertaking indeed...
review coming this week
~~~~~~~~~~~~~~~~~~~~~~~~~
Woman of Dignity
Woman of Spirit
Woman of Courage
Here is the magnificent saga of Mary Ingles' daring escape from Indian captivity and her remarkable journey home. Mary Ingles was twenty-three, married, and pregnant, when Shawnee Indians invaded her peaceful Virginia settlement in 1755, kidnapped her leaving behind a bloody massacre. For months they held her captive. But nothing could imprison her spirit.
With the rushing Ohio River as her guide, Mary Ingles walked one thousand miles through an untamed wilderness no white woman had ever seen. Her story lives on, extraordinary testimony to the indomitable strength of a pioneer woman struggling to return to the comfort of her own people, the arms of her own man.
~~~~~~~~~~~~~~~~~~~~~~~~~
The New York Times bestselling author of A Long Time Gone now explores a Southern family's buried history, which will change the life of the woman who unearths it, secret by shattering secret.
It has been two years since the death of Merritt Heyward's husband, Cal, when she receives unexpected news—Cal's family home in Beaufort, South Carolina, bequeathed by Cal's reclusive grandmother, now belongs to Merritt.
Charting the course of an uncertain life—and feeling guilt from her husband's tragic death—Merritt travels from her home in Maine to Beaufort, where the secrets of Cal's unspoken-of past reside among the pluff mud and jasmine of the ancestral Heyward home on the Bluff. This unknown legacy, now Merritt's, will change and define her as she navigates her new life—a new life complicated by the arrival of her too young stepmother and ten-year-old half-brother.
Soon, in this house of strangers, Merritt is forced into unraveling the Heyward family past as she faces her own fears and finds the healing she needs in the salt air of the Low Country.
~~~~~~~~~~~~~~~~~~~~~~~~~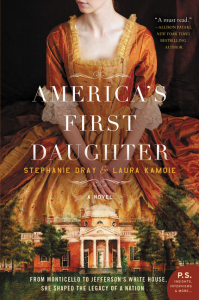 In a compelling, richly researched novel that draws from thousands of letters and original sources, bestselling authors Stephanie Dray and Laura Kamoie tell the fascinating, untold story of Thomas Jefferson's eldest daughter, Martha "Patsy" Jefferson Randolph—a woman who kept the secrets of our most enigmatic founding father and shaped an American legacy.
From her earliest days, Patsy Jefferson knows that though her father loves his family dearly, his devotion to his country runs deeper still. As Thomas Jefferson's oldest daughter, she becomes his helpmate, protector, and constant companion in the wake of her mother's death, traveling with him when he becomes American minister to France. It is in Paris, at the glittering court and among the first tumultuous days of revolution, that fifteen-year-old Patsy learns about her father's troubling liaison with Sally Hemings, a slave girl her own age.
Meanwhile, Patsy has fallen in love—with her father's protégé William Short, a staunch abolitionist and ambitious diplomat. Torn between love, principles, and the bonds of family, Patsy questions whether she can choose a life as William's wife and still be a devoted daughter. Her choice will follow her in the years to come, to Virginia farmland, Monticello, and even the White House. And as scandal, tragedy, and poverty threaten her family, Patsy must decide how much she will sacrifice to protect her father's reputation, in the process defining not just his political legacy, but that of the nation he founded.
~~~~~~~~~~~~~~~~~~~~~~~~~
A novel of family and long-buried secrets along the treacherous Underground Railroad.
The author of the New York Times bestseller and beloved book club favorite The Kitchen House continues the story of Jamie Pyke, son of both a slave and master of Tall Oakes, whose deadly secret compels him to take a treacherous journey through the Underground Railroad.
Published in 2010, The Kitchen House became a grassroots bestseller. Fans connected so deeply to the book's characters that the author, Kathleen Grissom, found herself being asked over and over "what happens next?" The wait is finally over.
This new, stand-alone novel opens in 1830, and Jamie, who fled from the Virginian plantation he once called home, is passing in Philadelphia society as a wealthy white silversmith. After many years of striving, Jamie has achieved acclaim and security, only to discover that his aristocratic lover Caroline is pregnant. Before he can reveal his real identity to her, he learns that his beloved servant Pan has been captured and sold into slavery in the South. Pan's father, to whom Jamie owes a great debt, pleads for Jamie's help, and Jamie agrees, knowing the journey will take him perilously close to Tall Oakes and the ruthless slave hunter who is still searching for him. Meanwhile, Caroline's father learns and exposes Jamie's secret, and Jamie loses his home, his business, and finally Caroline.
Heartbroken and with nothing to lose, Jamie embarks on a trip to a North Carolina plantation where Pan is being held with a former Tall Oakes slave named Sukey, who is intent on getting Pan to the Underground Railroad. Soon the three of them are running through the Great Dismal Swamp, the notoriously deadly hiding place for escaped slaves. Though they have help from those in the Underground Railroad, not all of them will make it out alive.
~~~~~~~~~~~~~~~~~~~~~~~~~
Meet Harold Fry, recently retired. He lives in a small English village with his wife, Maureen, who seems irritated by almost everything he does, even down to how he butters his toast. Little differentiates one day from the next. Then one morning the mail arrives, and within the stack of quotidian minutiae is a letter addressed to Harold in a shaky scrawl from a woman he hasn't seen or heard from in twenty years. Queenie Hennessy is in hospice and is writing to say goodbye.
Leaving Maureen to her chores, Harold heads to the corner mailbox, intending a quick walk to post his reply. Instead, inspired by a chance encounter, he becomes convinced that he absolutely must deliver his message to Queenie in person. And thus begins the unlikely pilgrimage at the heart of Rachel Joyce's remarkable debut. Harold Fry is determined to walk six hundred miles from Kingsbridge to the hospice in Berwick-upon-Tweed because, he believes, as long as he walks, Queenie will live.
Still in his yachting shoes and light coat, Harold embarks on his urgent quest through the countryside. Along the way he meets one fascinating character after another, each of whom unlocks his long-dormant spirit of youth and sense of promise. Memories of his first dance with Maureen, his wedding day, his joy in fatherhood come rushing back to him-allowing him to reconcile his losses and regrets. As for Maureen, she finds herself missing Harold for the first time in years.
And then there is the unfinished business with Queenie Hennessy.
A novel of unsentimental charm, humour, and profound insight into the thoughts and feelings we all bury deep within our hearts,
The Unlikely Pilgrimage of Harold Fry
introduces Rachel Joyce as a wise-and utterly irresistible-storyteller.
~~~~~~~~~~~~~~~~~~~~~~~~~


Sometimes the only way through darkness is to return to where it began.
Marianne Stokes fled England at seventeen, spiraling into the manic depression that would become her shadow. She left behind secrets, memories, and tragedy: one teen dead, and her first love, Gabriel, badly injured. Three decades later she's finally found peace in the North Carolina recording studio she runs with her husband, Darius, and her almost-daughter, Jade…until another fatality propels her back across the ocean to confront the long-buried past.
In her picturesque childhood village, the first person she meets is the last person she wants to see again: Gabriel. Now the village vicar, he takes her in without question, and ripples of what if reverberate through both their hearts. As Marianne's mind unravels, Jade and Darius track her down. Tempers clash when everyone tries to help, but only by finding the courage to face her illness can Marianne heal herself and her offbeat family.
~~~~~~~~~~~~~~~~~~~~~~~~~


One murder ignites the powder keg that threatens to consume the Medici's Florence.
Amidst the chaos, five women and one legendary artist weave together a plot that could bring peace, or get them all killed. Seeking to wrest power from the Medici family in 15th Century Florence, members of the Pazzi family drew their blades in a church and slew Giuliano. But Lorenzo de Medici survives, and seeks revenge on everyone involved, plunging the city into a murderous chaos that takes dozens of lives. Bodies are dragged through the streets, and no one is safe. Five women steal away to a church to ply their craft in secret. Viviana, Fiammetta, Isabetta, Natasia, and Mattea are painters, not allowed to be public with their skill, but freed from the restrictions in their lives by their art.
When a sixth member of their group, Lapaccia, goes missing, and is rumored to have stolen a much sought after painting as she vanished, the women must venture out into the dangerous streets to find their friend and see her safe. They will have help from one of the most renowned painters of their era the peaceful and kind Leonardo Da Vinci. It is under his tutelage that they will flourish as artists, and with his access that they will infiltrate some of the highest, most secretive places in Florence, unraveling one conspiracy as they build another in its place.
~~~~~~~~~~~~~~~~~~~~~~~~~


Debut novelist Lisa Lewis Tyre vibrantly brings a small town and its outspoken characters to life, as she explores race and other community issues from both the Civil War and the present day.
Lou might be only twelve, but she's never been one to take things sitting down. So when her Civil War-era house is about to be condemned, she's determined to save it—either by getting it deemed a historic landmark or by finding the stash of gold rumored to be hidden nearby during the war. As Lou digs into the past, her eyes are opened when she finds that her ancestors ran the gamut of slave owners, renegades, thieves and abolitionists.
Meanwhile, some incidents in her town show her that many Civil War era prejudices still survive and that the past can keep repeating itself if we let it. Digging into her past shows Lou that it's never too late to fight injustice, and she starts to see the real value of understanding and exploring her roots.
~~~~~~~~~~~~~~~~~~~~~~~~~


I killed a man the summer I turned thirteen . . .
Thus begins C. S. Harris's haunting, lyrically beautiful tale of coming of age in Civil War-torn Louisiana. Eleven-year-old Amrie St. Pierre is catching tadpoles with her friend Finn O'Reilly when the Federal fleet first steams up the Mississippi River in the spring of 1862. With the surrender of New Orleans, Amrie's sleepy little village of St. Francisville – strategically located between the last river outposts of Vicksburg and Port Hudson – is now frighteningly vulnerable. As the roar of canons inches ever closer and food, shoes, and life-giving medicines become increasingly scarce, Amrie is forced to grow up fast. But it is her own fateful encounter with a tall, golden-haired Union captain named Gabriel that threatens to destroy everything and everyone she holds most dear.
Told with rare compassion and insight, this is a gripping, heart-wrenching story of loss and survival; of the bonds that form amongst women and children left alone to face the hardships,deprivations, and dangers of war; and of one unforgettable girl's slow and painful recognition of the good and evil that exists within us all.
~~~~~~~~~~~~~~~~~~~~~~~~~
Kate Morton meets Daphne du Maurier in this atmospheric debut novel about a woman who discovers the century-old remains of a murder victim on her family's Scottish estate, plunging her into an investigation of its mysterious former occupants.
Following the death of her last living relative, Hetty Deveraux leaves London and her strained relationship behind for Muirlan, her ancestral home in Scotland's Outer Hebrides. She intends to renovate the ruinous house into a hotel, but the shocking discovery of human remains brings her ambitious restoration plans to an abrupt halt before they even begin. Few physical clues are left to identify the body, but one thing is certain: this person did not die a natural death.
Hungry for answers, Hetty discovers that Muirlan was once the refuge of her distant relative Theo Blake, the acclaimed painter and naturalist who brought his new bride, Beatrice, there in 1910. Yet ancient gossip and a handful of leads reveal that their marriage was far from perfect; Beatrice eventually vanished from the island, never to return, and Theo withdrew from society, his paintings becoming increasingly dark and disturbing.
What happened between them has remained a mystery, but as Hetty listens to the locals and studies the masterful paintings produced by Theo during his short-lived marriage, she uncovers secrets that still reverberate through the small island community—and will lead her to the identity of the long-hidden body.
~~~~~~~~~~~~~~~~~~~~~~~~~
Wildflower Hill is s compelling and romantic novel spanning three generations and half the world, from modern day London to Australia in the 1930s.
Emma is a prima ballerina in London and at a crossroads after an injured knee ruins her career. When she learns of her grandmother Beattie's death, and her own strange inheritance—an isolated sheep station in rural Australia—Emma is certain she has been saddled with an irritating burden. But when she returns to Australia, forced to rest her body and confront her life, she realizes that she had been using fame as a substitute for love and fulfillment.
Beattie also found herself at a crossroads as a young woman, but she was pregnant and unwed. She eventually found success—but only after following an unconventional path that was often dangerous and heartbreaking. Beattie knew the lessons she learned in life would be important to Emma one day, and she wanted to make sure Emma's heart remained open to love, no matter what life brought. She knew the magic of the Australian wilderness would show Emma the way.
~~~~~~~~~~~~~~~~~~~~~~~~~
When Grace Hansen finds a box belonging to her beloved grandfather, she has no idea it holds the key to his past—and to long-buried family secrets. In the box are his World War I diaries and a cryptic note addressed to her. Determined to solve her grandfather's puzzle, Grace follows his diary entries across towns and battle sites in northern France, where she becomes increasingly drawn to a charming French man—and suddenly aware that someone is following her…
Through her grandfather's vivid writing and Grace's own travels, a picture emerges of a man very unlike the one who raised her: one who watched countless friends and loved ones die horrifically in battle; one who lived a life of regret. But her grandfather wasn't the only one harboring secrets, and the more Grace learns about her family, the less she thinks she can trust them.
~~~~~~~~~~~~~~~~~~~~~~~~~



Everyone has secrets...
Iris and Will have been married for seven years, and life is as close to perfect as it can be. But on the morning Will flies out for a business trip to Florida, Iris's happy world comes to an abrupt halt: another plane headed for Seattle has crashed into a field, killing everyone on board and, according to the airline, Will was one of the passengers.
Grief stricken and confused, Iris is convinced it all must be a huge misunderstanding. Why did Will lie about where he was going? And what else has he lied about?
As Iris sets off on a desperate quest to uncover what her husband was keeping from her, the answers she finds shock her to her very core.
~~~~~~~~~~~~~~~~~~~~~~~~
During the 12th-century Welsh March Wars, King William Rufus orders Guyon, 28, to marry nearly 16-year-old Judith in order to secure lands from Judith's despised uncle, Lord Robert de Belleme.
As the marriage begins, Guyon is angry and Judith is terrified. He is experienced in both love and war, and is hostile about marrying this child and surrounding himself with such a nest of political vipers. Judith, having watched her father abuse her mother, expects her own marriage to include rape, beatings, and humiliation. What gradually develops between them is a trust and respect that eventually blooms into a passionate love.
Their story is tightly interwoven with a tenuous political situation as brothers battle for the kingdom and the barons divide themselves between the factions.
~~~~~~~~~~~~~~~~~~~~~~~~~
With a master storyteller's skill and a historian's precision, Sara Donati has delighted readers and critics alike with her bestselling novels of the nineteenth-century New York frontier. Now she brings us The Endless Forest, set in the remote village of Paradise, where the Bonner family that readers first met in Into the Wilderness make their home.
The spring of 1824 is a challenging one for the inhabitants of Paradise N.Y. when a flood devastates the village. But for Nathaniel and Elizabeth Bonner, it's also a time of reunion as their children return from far-off places: Lily and her husband from Italy, and Martha Kirby, the Bonners' ward, from Manhattan. Although Lily is nursing her own grief, it is Martha, fleeing a crushing humiliation, who brings with her trouble that will reverberate in all their lives.
In the sudden peace that follows the storm, as families struggle to rebuild, childhood friends Martha and Daniel, Lily's twin brother, suddenly begin to see each other in a new light. But their growing bond is threatened when Martha's mother arrives back in Paradise a decade after abandoning her daughter. Jemima Southern is a dangerous schemer who has destroyed more than one family, and her anger touches everyone, as do her secrets. Has Jemima come to claim her daughter–or does she have something else in mind? Whatever happens, Martha and Daniel and all the Bonners must stand united against the threats to both heart and home.
Painful secrets and hidden sorrows, joy, heartbreak, and passion follow the Bonners through a season of change and renewal. A rich, passionate, multilayered portrayal of family strength and endurance in a fascinating place and time, The Endless Forest will be remembered long after the last page is turned.
(review coming for this one)
I'd love to hear what your favorites were for 2016