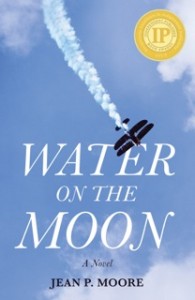 I am happy to be part of TLC's tour for Water on the Moon by Jean P Moore. Be sure to check out other tour hosts at the end of this post for reviews on this book.
Today I am sharing a guestpost by the author.
~~~~~~~~~~~~~~~~~~~~
When I began writing Water on the Moon, a novel about Lidia Raven, divorced mother of twin teenage daughters, I had no idea I would soon be engrossed in the history of Amelia Earhart. That's the way it appears to be with novel writing—one thing leads to another unanticipated thing. For me, that is the thrill of writing. It is like setting out on an arduous climb, not sure what you may find over the next peak.
We first see Lidia on a leisurely morning, reading in bed, but soon she hears a sputtering airplane engine coming close, much too close. She jumps into action and miraculously saves her family, including their black Lab, Opal, when the plane crashes into their historic Connecticut farmhouse.
The main plot centers on the connection between Lidia and the pilot of the plane, Tina Calderara, who is killed on impact. Tina is an enigmatic and troubled character who is obsessed with the pioneers of aviation history, particularly Amelia Earhart. She loves her daring and her spirit, but unfortunately Tina shares nothing of Earhart's true strength, her noble character.
What we know of Amelia Earhart (born July 24, 1897), her record-breaking flights and her tragic loss in 1937 as she was trying to circumnavigate the globe, are the most sensational features of her all too brief life. She was as well a supporter of woman's rights who encouraged women to follow their dreams, whether in the air or on the ground. She was a champion of courage when confronting fears, accepting challenges, and facing the odds. A sampling of her words attests to these qualities:
In spurring women of her era on to greater achievements, she did not "sugarcoat" the dangers inherent in striking out on one's own:
"Please know that I am aware of the hazards. I want to do it because I want to do it. Women must try to do things as men have tried. When they fail, their failure must be a challenge to others."
In discussing the challenges in taking on difficult tasks, she zeroed in on the greatest threat, our own fears:
"The most difficult thing is the decision to act, the rest is merely tenacity. The fears are paper tigers. You can do anything you decide to do. You can act to change and control your life; and the procedure, the process is its own reward."
And prophetically, perhaps, she knew that embarking on a perilous journey was only the beginning:
"In soloing - as in other activities - it is far easier to start something than it is to finish it."
And putting all the fears, dangers, and obstacles aside, she got to the heart of it in this, her most famous quote:
"Never interrupt someone doing what you said couldn't be done."
In my novel, the pilot, Tina, may have had the courage to follow her dreams and to become an accomplished aviator in her own right, but it is Lidia who must face her demons and find the courage to accomplish the tasks fate has handed her.
My hope in writing Water on the Moon was to create a "page-turner" that perhaps would also shine a light on the gifts left to us in the stories of such historical figures as Amelia Earhart.


~~~~~~~~~~~~~~~~~~~~~~~~~

Paperback: 244 pages
Publisher: She Writes Press (June 3, 2014)
Acclaimed Debut Novel, Winner of the 2015 Independent Publishers Book Award for Contemporary Fiction
When her husband comes out as gay and an airplane crash inexplicably destroys her home, the mother of teenage twin daughters must rethink everything she knows.
In her debut novel
Water on the Moon
, Jean P. Moore introduces readers to Lidia Raven, whose life begins taking seemingly endless wrong turns. Lidia and her girls miraculously survive the plane crash that destroys their home and are taken in by Lidia's friend Polly, a neighbor with a robust collection of first-edition books who lives alone on a sprawling estate.
Struggling to cope with each of these life-changing events, Lidia discovers a connection between herself and Tina Calderara, the pilot who crashed into her home. In the months that follow, Lidia plunges into a mystery that upends every aspect of her life.
Rife with age-old dilemmas, this contemporary novel explores the relationships between mothers and daughters and the trials and triumphs of women's friendships. As Lidia learns to reconcile her pain with her need to be true to herself and to accept that need in others, she discovers that while life has the power to unhinge her, it also has the power to open her to new ways of being in the world.
Set off by the poetry of Lord Byron,
Water on the Moon
received the 2015 Independent Publishers (IPPY) Book Award for contemporary fiction. Book Awards Coordinator Amy Shamroe comments, "
Water on the Moon
starts with chaos, but the story that unfolds is a carefully layered mystery that allows for meaningful character development. With simple, clean prose, Jean Moore crosses generations to bring a feeling of connection to the seemingly random, tragic event at the heart of the book."
"A fusion of history, romance, and mystery, Moore's ambitious debut dazzles. With sympathetic characters who come alive, and with threads of Byron and Earhart cleverly woven throughout the pages, Moore spins a bewitching tale of hope, tragedy, and family secrets." ~
Lori Nelson Spielman, author of The Life List and Sweet Forgiveness
Purchase Links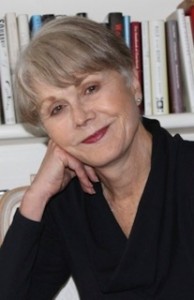 Jean P. Moore
began her professional life as an English teacher, later becoming a telecommunications executive. She and her husband, Steve, and Sly, their black Lab, divide their time between Greenwich, Connecticut and the Berkshires in Massachusetts, where Jean teaches yoga in the summers.
Her work has appeared in newspapers, magazines, and literary journals such as
upstreet
,
SN Review
,
Adanna
,
Distillery, Skirt, Long Island Woman,
the
Hartford Courant, Greenwich Time,
and the
Philadelphia Inquirer.
Water on the Moon
was published in June of 2014 and won the 2015 Independent Publishers Book Award for Contemporary Fiction.
Connect with Jean

Jean P. Moore's TLC Book Tours TOUR STOPS:
Monday, October 19th:
Bibliotica
Tuesday, October 20th:
Books a la Mode
– author guest post
Wednesday, October 21st:
Mallory Heart Reviews
Thursday, October 22nd:
Kritter's Ramblings
Monday, October 26th:
Patricia's Wisdom
Tuesday, October 27th:
Thoughts from an Evil Overlord
Wednesday, October 28th:
Bookmark Lit
Thursday, October 29th:
Mallory Heart Reviews
– author guest post
Monday, November 2nd:
5 Minutes for Books
Tuesday, November 3rd:
Just One More Chapter
– author guest post
Wednesday, November 4th:
A Bookish Way of Life
Friday, November 6th:
Necromancy Never Pays
Monday, November 9th:
Diary of a Stay at Home Mom
Tuesday, November 10th:
Savvy Verse and Wit
Thursday, November 12th:
Kahakai Kitchen