Frankenstein lives on as one of the most fascinating fictional creations of all time, but the true personal story of the women behind this work of genius is equally as compelling.
In her new historical novel,
The Determined Heart: The Tale of Mary Shelley and Her Frankenstein
(Lake Union Publishing; September 29, 2015),
New York Times
bestselling author Antoinette May brings to life the tragic story of obsessive love, betrayal, and redemption that spawned an enduring classic. In a story more dramatic and tragic than anything a writer could invent, the lives of Mary Shelley, her great love, the poet Percy Bysshe Shelley, and her complex web of family and friends entwine in a chronicle of strange behavior, bohemian attitudes, and unconventional acts as far ahead of their time as the amazing literary work that grew from them.
Mary Godwin Shelley was the daughter of two revolutionary thinkers—political philosopher William Godwin and philosopher and feminist Mary Wollstonecraft. An unconventional childhood in an intellectual, if impecunious household would shape the young girl's renegade spirit. When still a teenager, she ran off with the already-married poet Percy Bysshe Shelley, an act of equal parts passion and defiance that led to a life of wandering destitution. Espousing free love, the couple would endure its share of tragedies, each of which would add to their romantic legacy. From the darkness that surrounded her life, though, the brilliant and talented Mary imagined a timeless work of fiction that secured her place in history, if not her happiness.
The Determined Heart
is a masterful work of historical fiction that reanimates the timeless story of an iconic literary life.
"Epic in scope, this is a beautifully written novel about a woman whose story is every bit as extraordinary and gripping as that of the epic character she created, Frankenstein. May's meticulous research and exquisite prose shine on every page." —Erika Mailman, author of The Witch's Trinity and Woman of Ill Fame
"May displays a deft flair for historical fiction…" –BookList on Pilate's Wife, A Novel of the Roman Empire
paperback received as part of tour
Confession time, I didn't realize Frankenstein was written by a woman (never read it). Published in 1818, I didn't think that women were able to get anything published, even if anonymously. So this book was not just entertaining but educational at the same time.
The writing style was engaging and her character development was nice. It wasn't hard to connect with Mary and her older sister Fan but once the stepmother and stepsister showed up things changed. It would have been nice if there was a little more depth at times to some of the interactions as I didn't exactly feel the emotional connection in the romance department - whether it be between Mary and Percy and those involving Clara (the stepsister).
One thing about HF is you can't change history, you can modify it a little to make for interesting reading though. Case in point Claire/Clara, I didn't like her, she was demanding, immature and extremely inconsiderate not to mention annoying. Whether she was like that in history I don't know, but if it was the authors intent to portray her that way, she did a spot on job of that.
All in all I really enjoyed this book, very happy to have read it. I love learning about lesser known figures in history and this fit the bill perfectly. Frankenstein is already loaded on my kindle.
I have one copy up for grabs (US and Canada addresses only). Just leave a comment below, maybe tell me about a book you think I might like, have you read Frankenstein or what you are reading these days. Contest closes Oct 26th.
Purchase Links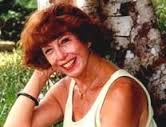 Antoinette May
is the author of
Pilate's Wife
and
The Sacred Well
and coauthor of the
New York Times
bestseller
Adventures of a Psychic
.
An award-winning travel writer specializing in Mexico, May divides her time between Palo Alto and the Sierra foothills.
Antoinette May's TLC Book Tours TOUR STOPS: