In an enthralling new historical novel from national bestselling author Kate Quinn, two women—a female spy recruited to the real-life Alice Network in France during World War I and an unconventional American socialite searching for her cousin in 1947—are brought together in a mesmerizing story of courage and redemption.
1947.
In the chaotic aftermath of World War II, American college girl Charlie St. Clair is pregnant, unmarried, and on the verge of being thrown out of her very proper family. She's also nursing a desperate hope that her beloved cousin Rose, who disappeared in Nazi-occupied France during the war, might still be alive. So when Charlie's parents banish her to Europe to have her "little problem" taken care of, Charlie breaks free and heads to London, determined to find out what happened to the cousin she loves like a sister.
1915
. A year into the Great War, Eve Gardiner burns to join the fight against the Germans and unexpectedly gets her chance when she's recruited to work as a spy. Sent into enemy-occupied France, she's trained by the mesmerizing Lili, the "Queen of Spies", who manages a vast network of secret agents right under the enemy's nose.
Thirty years later, haunted by the betrayal that ultimately tore apart the Alice Network, Eve spends her days drunk and secluded in her crumbling London house. Until a young American barges in uttering a name Eve hasn't heard in decades, and launches them both on a mission to find the truth...no matter where it leads.
"Both funny and heartbreaking, this epic journey of two courageous women is an unforgettable tale of little-known wartime glory and sacrifice. Quinn knocks it out of the park with this spectacular book!"—Stephanie Dray, New York Times bestselling author of America's First Daughter
Paperback: 528 pages
Publisher: William Morrow Paperbacks
(June 6, 2017)
You know what I wanted to do when I finished this book? Turn back to page 1 and start all over again. Then I think I will grab her Rome series and reread those. There were so many things that I loved about this book and it comes with a major gosh alert, consider yourself warned.
If it was possible to give more than a five stars I definitely would, not only did it make my 'best of 2017' but make my list of all time favorites.
The Alice Network is a dual time period story, where one usually involves a current day thread and a past it was a nice change for the focus to be on the past, the two world wars. I have read everything Kate Quinn has written this is her first venture out of Rome and a totally different era. It takes a talented author who can make that jump and hit a grand slam. She has totally done that here.
I loved the uniqueness of the subject matter, the little know parts of history brought to life in a realistic and believable matter, it had me chomping at the bit to google so much. I was good and waited till I finished not just the book but the author's notes as well. Anyone who knows me knows I love when a book finishes off with these, especially in a historical piece. It's where the author gets to talk about what's real, what's made up giving the reader an inside look at the motivation and what drew the author the write this book - loved it!
The Alice Network was a compelling story with characters that were real, in a setting full of intrigue, suspense and heartbreak, witty at times to break the tension (as only Kate Quinn can do). Quinn's pose is flawless, she gives depth to her characters and setting making me feel like I am right there, I can feel the emotion pulse through this story giving credence to the author's ability to weave together a great story.
It is always a pleasure reading a Kate Quinn book, thank you to TLC Tours for the opportunity to be part of this tour. Be sure to check out the video below where some of us bloggers are given the opportunity to ask her questions.

Kate Quinn
is a native of Southern California. She attended Boston University, where she earned bachelor's and master's degrees in classical voice.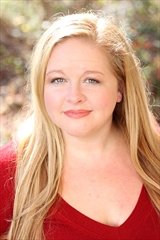 A lifelong history buff, she has written four novels in the Empress of Rome Saga and two books set in the Italian Renaissance detailing the early years of the infamous Borgia clan. All have been translated into multiple languages.
She and her husband now live in Maryland with two black dogs named Caesar and Calpurnia.
Find out more about Kate at her
website
, and connect with her on
Facebook
and
Twitter
.